Gonaives, Haiti - U.N. peacekeeping troops began handing out food and water to famished Haitians on Friday after the first shipload of aid sailed into a crumbling port on the outskirts of this flooded city, where tens of thousands are stranded in the wake of Tropical Storm Hanna.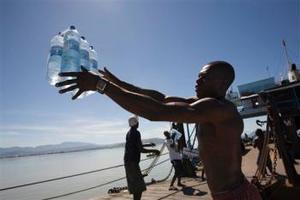 ©AP Photo/Ariana Cubillos
A man unloads bottles of water donated by Word Food Program in Gonaives, Haiti, Friday, Sept. 5, 2008. A ship carrying 33 tons of U.N. relief supplies managed to dock Friday, the first significant aid delivery after four days without food or water for thousands of survivors from Tropical Storm Hanna
Receding flood waters revealed more corpses in the stinking muck, bringing fears
the death toll of 163 will rise even higher
. But on Friday, the focus was not on counting bodies, but on caring for survivors.
The rusty container ship
Trois Rivieres
, chartered by the U.N. World Food Program, arrived belching white smoke. Guarded by Argentine peacekeepers brandishing assault rifles, it docked at a remote private port away from the city because the main port was too small.
Within hours, the U.N. began distributing the high-energy biscuits and water to emergency shelters where 40,000 people were marooned and increasingly desperate. At an empty warehouse in the northern section of the city where floodwaters have receded, about 1,000 hungry and thirsty men and women, some cradling youngsters, pushed and shoved as Haitian civil protection authorities in orange T-shirts tried to get them in line. U.N. peacekeeping troops from Argentina stood by,
shotguns and assault rifles at the ready.
Anna Achelis, whose house is completely submerged, emerged from the melee holding one of her identical 3-year-old twin girls along with two bottles of water, five vitamin-enriched biscuits and a box of toiletries. She said she hoped the biscuits would stave off hunger for her five children and would try to make them last.
Underscoring the desperation,
some people who already had received food knocked cookies from the hands of other people, then scrambled on the floor to retrieve them.
The troops delivered aid to some 2,000 people in two shelters before operations were suspended at dusk, considering it too dangerous to work in the city after dark.
More than 10,000 people have left Gonaives on foot, swimming and wading through floodwaters and heading for the next town about 45 miles to the south, said Daniel Rouzier, Haiti chairman of Food for the Poor.
"The exodus out of Gonaives is massive," he said.
There were 163 confirmed deaths across Haiti from Hanna, including 119 in the Artibonite region that encompasses Gonaives, Marie-Alta Jean Baptiste, director of Haiti's civil protection department, said Friday night.
A media report that hundreds of bodies have been found in Gonaives was incorrect, according to Baptiste, peacekeepers, and the national police director for Artibonite.
With the skies finally clear Friday - the same baby blue as the hats of the U.N. peacekeepers - aid also began to trickle in by air. At least eight U.N. helicopters carrying personnel and food landed at the peacekeepers' base at the foot of a deforested mountain. A pair of U.S. Coast Guard helicopters brought in food donated by the U.S. Agency for International Development.
But the respite was expected to be brief. Hurricane Ike, a dangerous Category 3 storm, was forecast to pass just north of Haiti on Sunday. Even if Haiti avoids a direct hit, Ike is almost certain to bring rain to the fertile Artibonite Valley, whose rivers funnel into Gonaives, Haiti's fourth-largest city, and the surrounding flood plain.
"It's such a moist environment, so rain is almost a no-brainer. Now, how much rain is tough to say," meteorologist John Cangialosi said at the U.S. National Hurricane Center in Miami.
Max Cocsi, who directs Belgium's mission in Haiti of Doctors Without Borders, noted it would take little rain to compound the disaster because the soil is already saturated and rivers are overflowing from three tropical storms in less than three weeks. The two earlier storms - Fay and Gustav - killed at least 96 other Haitians.
"
We don't need a hurricane - a storm would be enough
," he said.
Rescue convoys have been blocked for days by floodwaters, collapsed bridges and washed-out roads. A U.S. plane from Miami delivered enough relief supplies for 20,000 people to the capital Thursday, much of which was brought to Gonaives by a U.S. Coast Guard cutter and by air.
These shipments - including health kits, plastic sheeting and water jugs - will be followed by more aid as soon as officials figure out how to get it in, U.S. Embassy spokeswoman Mari Tolliver said.
The tropical storms have compounded Haiti's misery. The Western Hemisphere's poorest country was already suffering from rising prices and government disorder following April food riots that unseated the prime minister.
After midnight Thursday, Haiti's Senate finally approved new Prime Minister Michele Pierre-Louis' Cabinet and government.
Meanwhile, the European Union on Friday promised euro 2 million (US$2.85 million) to provide storm victims with food, water, shelter, basic medical care and household equipment.
The U.S. Southern Command diverted the amphibious USS Kearsarge from Colombia to Haiti to assist in the relief effort. The ship should arrive Sunday and can rapidly move personnel and cargo by helicopter and landing craft. Its medical unit includes four operating rooms and 53 beds.
A few of those left homeless by Hanna were lucky enough to obtain passage on the Trois Rivieres on its trip back to Port-au-Prince, the capital. They stared at the tons of food and relief supplies the ship had carried in: 50 metric tons of bottled water and 16 metric tons of high-energy biscuits, along with rice, cooking oil and hygiene supplies. Haitian men tossed packs of bottled water along a human chain, dropping them in a glimmering pile.
U.N. officers looked on exhausted. The peacekeepers had labored through the night using heavy equipment to shove boulders into a 12-foot-long gash in the pier, caused when a container crashed into it during the storm.
Annette Benjamin, 53, wearing a light yellow summer dress as she stood on the crumbling pier, averted her eyes and silently prayed the ship would take her to safety.
She had tried to wait out the storm in her simple home at No. 113 Rue Cristophe, but the flood collapsed the walls around her. Neighbors pulled her to safety, but everything she owned was gone.
For the next four days, Benjamin and her 21-year-old daughter, Evena, waded through what the stinking river Rue Cristophe had become, dodging debris and trying to avoid stepping on bodies.
"I almost died. My house is destroyed. I lost everything," Benjamin said, a bag on her head filled with dirty clothes she had found in the ruins of her street. It was all she owned.
"I cannot stay in Gonaives anymore, because they say the storms are going to return again," she murmured.
Another of Benjamin's daughters, a policewoman in Port-au-Prince, had arranged for her to catch a ride on the ship's return trip, and after an officer beckoned her on board, she and Evena shuffled down a rickety metal gangplank onto the ship and sat among the emptying containers.