Gonaives - Hundreds of people fled this waterlogged city Saturday for higher ground as powerful Hurricane Ike threatened to unleash heavy rain and compound a disaster caused by a previous storm. At the local jail, emaciated inmates waited for food to stave off starvation.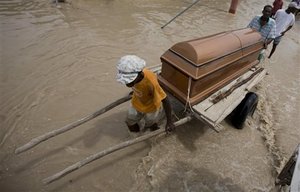 ©Unknown
With a tropical storm warning issued Saturday for Gonaives and other parts of Haiti, some residents climbed on top of cars to reach the second floor of their homes, where they had piled up furniture and spread sheets to provide shade, said Holly Inurreta of Catholic Relief Services.
"We are very concerned about Ike," she said. "Any bit more of rain and Gonaives will be cut off again."
Police Commissioner Ernst Dorfeuille told The Associated Press on Saturday that a news report the previous evening that quoted him as saying 495 bodies had been found in Gonaives from Tropical Storm Hanna was completely wrong. He told AP there were 32 confirmed deaths in this city on Haiti's west coast from the storm that hit on Monday.
Ike, a Category 4 hurricane, was expected to skirt northern Haiti late Saturday and Sunday.
Wesley Sijuen, a 28-year-old father of twins and a 3-year-old son, trudged through heavy mud with seven of his relatives to reach a convent at a nearby mountaintop. His brother-in-law, 28-year-old Jean Emmanuel, said numerous Haitians were fleeing Gonaives.
"Everyone is trying to save themselves," Emmanuel said.
One gray-haired woman left on the back of a motorbike, balancing a bucket of silverware, glasses and other kitchen items on her head.
In the city, U.N. peacekeepers and aid workers delivered high-energy biscuits and water to famished residents, many of whom had not eaten since Monday.
"What I saw in this city today is close to hell on earth," U.N. envoy Hedi Annabi said as he toured the region on Saturday.
Dozens of children raised their hands and ran after U.N. food trucks that rumbled through the damp streets of Gonaives. "Hungry! Hungry!" they yelled. The water in many neighborhoods has receded from about 10 feet (3 meters) high to knee deep.
Inmates at the Gonaives jail were waiting for their deliverance from starvation. Several had deep-set eyes, protruding ribs and gagged from the overpowering stench of filth and sewage inside the building.
"We haven't eaten since the storm," said 32-year-old Sylvin Renold, who had been arrested on theft charges.
On Saturday evening, Marie-Alta Jean Baptiste, director of the civil protection department, said one more body was found, raising the confirmed death toll from Hanna in Haiti to 167. Some 119 of the deaths have occurred in the province surrounding Gonaives.
In Cap-Haitien, Haiti's second-largest city, authorities were trying to move thousands of people into the few shelters in the northern coastal town, said Father Duken Augustin.
"Please say a prayer for us," he told a reporter. "People are really, really, really scared."
The U.N. World Food Program said Saturday that successive deadly storms have displaced hundreds of thousands of people and destroyed scores of homes and plantations.
"WFP has first-rate logistics, and this storm system is putting us to the test," said Myrta Kaulard, WFP Representative in Haiti.
U.S. Coast Guard crews expected to deliver up to 35 tons of supplies including rice, beans and water on Saturday. The U.S. Southern Command diverted the amphibious USS Kearsarge from Colombia to Haiti. The ship should arrive Sunday and has a medical unit with 53 beds.