CHEYENNE, Wyo. - Vacationers will have fewer places to pitch their tents this summer in Colorado and Wyoming, and they can place the blame on bugs.
The U.S. Forest Service has closed some popular campgrounds in the two states because of concern that trees killed by the bark beetles that are ravaging forests across the West could topple onto unsuspecting visitors.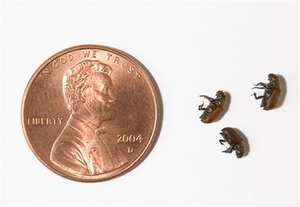 ©AP Photo/Troy Maben,File
Dead bark beetles are displayed next to a penny in the Wyatt Williams's lab at Boise State University in Boise, Idaho, in this Aug. 24,2006, file photo. As bark beetles ravage millions of trees across the West, U.S. Forest Service officials in Colorado and Wyoming have closed some popular campgrounds out of concern the infested trees will come crashing down on visitors.
Bark beetles have always been a part of forests in the West, but warming temperatures and an abundance of aging lodgepole pines that haven't been thinned by fires have allowed populations of the hungry insects to explode. They now infest nearly 3,600 square miles of forest in the two states.