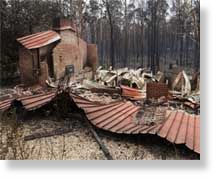 Survivors of Australia's deadly bushfires on Sunday described how a thick blanket of black ash blotted out the sun, leaving only a "horrible orange glow" as flames bore down on their homes.
Residents in the worst-hit areas northwest of Melbourne, where most the reported 93 fatalities occurred, told how they lost loved ones to the flames and desperately tried to help the injured, including children.
Entire townships were razed to the ground, with burnt-out cars strewn across the road outside one of the worst-hit communities, Kinglake, standing in mute testimony to residents who made doomed attempts to escape.
An AFP photographer who reached the town described how the cars had crashed into each other or into trees as towering flames put an end to their flight from the town.