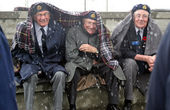 Ah June, when the long sunny days bring thoughts of swimming holes, tents and - toboggans?
Yes, snow has fallen in southern Alberta and Saskatchewan this weekend.
Bundled in a long coat and mittens to ward of the cold, Prime Minister Stephen Harper's wife, Laureen, led an annual parade in Diamond Valley, Alta., on Saturday, undeterred by the snowfall around her.
"It's lovely to be home," said Harper, who grew up in the area.
"I love it, no matter what the weather is."
In Cypress Hills Interprovincial Park, which straddles the border between Alberta and Saskatchewan, forecasters reported a heavy snowfall.
"We had a report from the park there was 15 centimetres on the ground and still snowing heavily," said Dan Fulton with Environment Canada.
"We will be expecting total snow there of about 20 or maybe even 25 centimetres (Saturday) in the park."
About an hour away, Alan Liu of Maple Creek, Sask., was working at a cafe. He said one thing he definitely didn't expect to see in the first week of June was flakes falling.
"It's not too good because the snow is very heavy. There are big flakes coming down," said Liu.
"There's quite a bit (of snow) on the ground, but out the temperature is about 1 C," he said, adding much of the snow was melting as soon as it landed.
Liu said the good thing about the snow was that it was supplying some much needed moisture for farmers in the area.
"I did talk to a farmer this morning he was worried that it would get too cold and (may) damage his crop," said Liu.
The snow was a blessing to firefighters battling to keep blazes from claiming park forests in Alberta, said Rob Harris, a wildfire information officer.
"It's brought the fire hazard down to the level where it's considered low or moderate across most areas of Alberta's forests. So that's great news for our forest fire situation," Harris said.
The fire hazard had been starting to creep up in central and southern Alberta earlier this week. And conditions were right for teams to light some prescribed fires earlier this week. "Now those fires are sitting under snow," Harris said.
The Environment Canada forecaster, meanwhile, explained that the cool weather was caused by a big storm that started in Alberta.
In Calgary, where the high for Saturday was 7 C - well below seasonal norms - much of the snow melted on contact with pavement.
But blankets of white could be seen sticking around longer in some neighbourhoods particularly on the city's western edges.
Records reveal that snow in June is rare for the region but does happen.
On June 6, 1951, Calgarians were digging out from under 24.9 cm, according to Environment Canada.
The high for Regina Saturday was 11 C and 8 C on Sunday - well below the seasonal high of 22 C.
The cool weather was expected to linger.