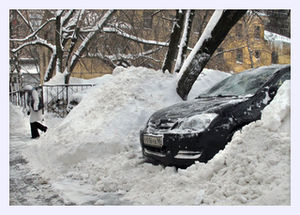 Thousands of snow-removal vehicles hit Moscow's streets Tuesday after a record snowfall dumped 67 centimeters of snow on the city over the extended holiday weekend.
The heavy snowfall convinced residents to stay at home for the four-day Defender of the Fatherland holiday, leaving many streets eerily empty and halving the usual number of traffic accidents.
Three days of snow flurries had covered the city with 67 centimeters of snow by Tuesday morning, which dawned bright and clear, the Moscow weather bureau said, Interfax reported.
Meteorologists have not counted such a large amount of snowfall since they started keeping records in the capital.
The previous record of 65 centimeters was set on Feb. 18, 1966, the weather bureau said.
The most snowfall previously recorded on Feb. 23 was 60 centimeters in both 1970 and 1902, it said.
Snowfall reached 63 centimeters on Monday morning, passing a 1966 record of 62 centimeters for Feb. 22, it said.