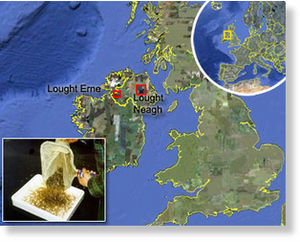 There have been dire warnings about the future of Europe's largest eel fishery at Lough Neagh: numbers of elvers returning to Europe's rivers and lakes have been mysteriously dropping for years, but this season the decline has hit more fisheries than ever before.
Since 1983, Lough Neagh fishermen have been noticing the low numbers of glass eels returning from the Sargasso Sea spawning grounds.
With a view to the future, they took action, re-stocking their fishing grounds with glass eels bought from healthier fisheries such as the Severn estuary, and that has allowed them to continue meeting their quota of adult eels.
But last season the Severn estuary was the latest fishery to be hit by plummeting glass eel returns and prices for glass eels have shot up - posing a challenge for the Lough Neagh Eel Fishermen's Cooperative as they struggle to find ways to re-stock the lough, reports the Belfast Telegraph.