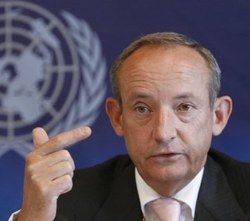 Yvo de Boer, the UN official who oversaw four years of climate talks has suddenly quit his post. He claims disappointing Copenhagen outcome was unrelated to decision, but it doesn't sound that way:
De Boer said that he was not quitting the key UN Framework convention on climate change (UNFCCC) post because the Copenhagen climate talks in December were widely seen as a failure. "We were about an inch away from a formal agreement. It was basically in our grasp, but it didn't happen. So that was a pity," he said.

But he was known to have been frustrated by the outcome, and doubtful whether anyone could steer through a major global agreement between wildly diverging rich and poor countries. Today he said hat the talks were "on track," but that he was uncertain that a full treaty could be finalised this year.