Earth Changes
USGS
Thu, 03 Jul 2008 12:21 UTC
Magnitude 5.8 - TRINIDAD REGION, TRINIDAD AND TOBAGO

2008 July 03 06:34:53 UTC
---
A gas used in the making of flat screen televisions, nitrogen trifluoride (NF3), is being blamed for damaging the atmosphere and accelerating global warming.
Comment:
This is a logical fallacy. Yes, warming is a fact - well,
until recently
. Yes, NF3 is a greenhouse gas. If you dump NF3 into the atmosphere will it warm it? In a closed system, yes. In an open, nonlinear system the answer is, maybe. In a nonlinear system it could just as likely cool it, perhaps by increasing low level cloud cover. Meanwhile, last time we checked, flat screen sales were down on
Pluto
.
---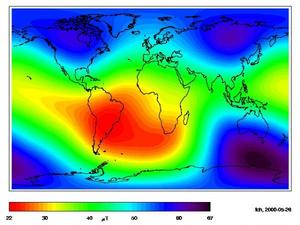 ©Unknown
Rapid changes in the churning movement of Earth's liquid outer core are weakening the magnetic field in some regions of the planet's surface, a new study says.
"What is so surprising is that rapid, almost sudden, changes take place in the Earth's magnetic field," said study co-author Nils Olsen, a geophysicist at the Danish National Space Center in Copenhagen.
The findings suggest similarly quick changes are simultaneously occurring in the liquid metal, 1,900 miles (3,000 kilometers) below the surface, he said.
The swirling flow of molten iron and nickel around Earth's solid center triggers an electrical current, which generates the planet's magnetic field.
The study, published recently in
Nature Geoscience
, modeled Earth's magnetic field using nine years of highly accurate satellite data.
---
Zhang Haizhou, Xie Chuanjiao
China Daily
Thu, 03 Jul 2008 08:18 UTC
Areas affected by the May 12 earthquake are facing a "critical situation", as the annual flood approaches, a senior official from the Ministry of Water Resources said on Wednesday in Beijing.

Jiao Yong, deputy water minister, said at a press briefing that some parts of China have experienced up to 50 percent more rain this year than usual.

Sichuan is also due to get a lot wetter during its flood season, which is expected to run through this month and next, he said.

The problem is that the earthquake did considerable damage to the province's reservoirs and dams, which will reduce its ability to prevent floods, he said.
---
Is the earth warming? Is human activity the cause? Is there anything we can do about it?

While many believe there is a consensus in the scientific community that humans are causing the earth to heat and that serious action must be taken immediately, that's not what most Americans believe, according to a Pew Poll taken May 8.

The poll did find that 71 percent of Americans say there is solid evidence that the earth is warming. But only 47 percent said they believed the earth was warming because of human activities, such as burning fossil fuels.
---
Severe thunderstorms are winding down across West Michigan, leaving a trail of downed trees and power lines in their wake.

Most severe weather reports are of hail and heavy rains.

There are reports of some trees down and lightning strikes of homes and power lines.
---
To Monday noon, the total rainfall recorded at the Hong Kong Observatory in June had reached 1,346.1 millimeters, which has become the wettest month since records began in 1884.

The new record broke the one previous monthly rainfall record of 1,241.1 millimeters set in May, 1889.
---
Last week it snowed, yesterday people wore shorts and by the end of the week it will snow again.

Hobart enjoyed a beautiful day of sunshine yesterday, with the temperature creeping up to a summer-like 18.1C.

Out of all the capital cities in Australia, only Darwin, Sydney and Brisbane were warmer than Hobart.

But as children took time out to play at the beach, Bureau of Meteorology senior forecaster Barry Becker had some bad news: don't make any outdoor engagements for later in the week.
---
Amanda Fehd, Marcus Wohlsen and Scott Lindlaw
Associated Press
Wed, 02 Jul 2008 17:17 UTC
Authorities on Wednesday ordered most of the remaining residents of this scenic coastal community to leave after an out-of-control wildfire jumped a fire line and threatened more homes.
New mandatory evacuation notices were issued Wednesday morning for an additional 10-mile stretch along Highway 1, bringing the total length of the evacuated area to about 25 miles of the coast, emergency officials said.
"The fire is just a big raging animal right now," said Darby Marshall, spokesman for the Monterey County Office of Emergency Services.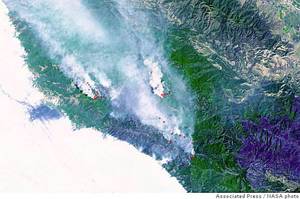 ©NASA photo via Associated Press
Fires near Big Sur are shown in a photo from the Advanced Spaceborne Thermal Emission and Reflection Radiometer instrument on NASA's Terra satellite on Sunday, June 29, 2008. The image combines a natural color portrayal of the landscape with thermal infrared data showing the active burning areas in red. The dark area in the lower right is a previous forest fire.
Firefighters are battling more than 1,100 wildfires, mostly ignited by lightning, that have scorched 680 square miles and destroyed 60 homes and other buildings across Northern California since June 20, according to the California Department of Forestry and Fire Protection.
---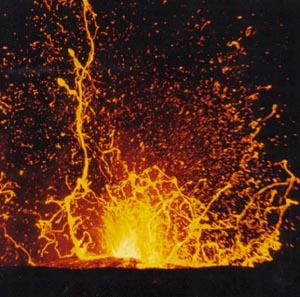 ©Unknown
Study Discovers Lava Spewing Activity
In a series of different expeditions on the Arctic Seafloor, there have been a number of volcano spots located that are actively spewing red-hot lava out of the seafloor.
It has revealed itself as an explosive geographical location, with fountains of molten lava and gas that are springing out of different volcanoes under the sea near the North Pole.
The researchers that went in search of ocean floor conditions near the North Pole were surprised to discover the intensity and variety of volatile activity beneath the Arctic Ice.
---