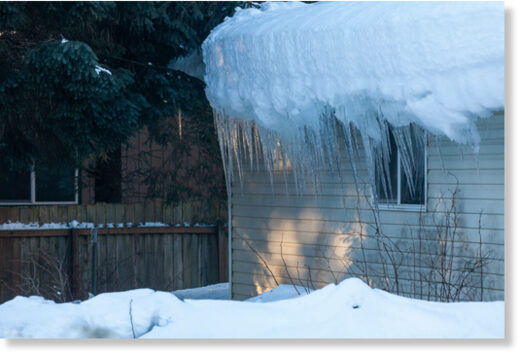 Winter weather is in full effect across Alaska,
but unusually high snow accumulation is testing Southeast. Usually some snow melts between storms, but that's not happening this winter.
Long icicles dangled under a block of snow piled on top of Stan Savland's home in Juneau's Lemon Creek neighborhood.
Savland and his son knocked a piano-sized chunk of snow and ice off the roof with a steel bar this week.
Savland says warming from the attic created an ice dam that blocked the snow from sliding off his metal roof.
He estimates more than three feet of ice and snow teetered above his fuel tank
. So he took matters into his own hands.
"We put some protection by the oil tank, and it basically bounced off the protection and then bounced out, hit me in the leg and knocked me down," he said. "We accomplished our goal but kind of got caught in the crossfire."