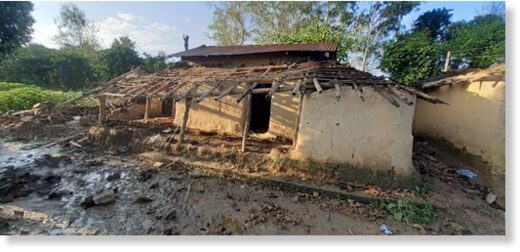 Hundreds of homes were damaged and residents rescued after flash floods in areas of Kathmandu, capital of Nepal, on 06 September 2021.
Meanwhile officials in the country report that over 60 people have lost their lives in flood and landslides over the last 4 weeks.
Kathmandu
Flooding began in Kathmandu after heavy rainfall late 05 to early 06 September.
Some areas saw more than 120mm of rain in around 8 hours. The September average for Kathmandu is around 200 mm.
Local media, quoting police sources, said that over 380 houses were damaged and more than 200 people rescued by teams from police and military across the city. No injuries or fatalities were reported.
The worst of the flooding was in areas along rivers in the city, in particular the Bagmati and Manohara. Flood water in Bhaktapur, situated between the Kasan and Hanumante rivers, caused residents to evacuate their homes. Parts of Lalitpur were also affected. The Bagmati at Khokana in Lalitpur reached 4.5 metres on 06 September, well above the danger mark of 4 metres.