As oceans warm and become more acidic, ocean creatures are undergoing severe stress and entire food webs are at risk, according to scientists at a press briefing this morning at the annual meeting of the American Association for the Advancement of Science in Boston.
Gretchen Hofmann, associate professor of biology at the University of California, Santa Barbara, has just returned from a research mission to Antarctica where she collected pteropods, tiny marine snails the size of a lentil, that she refers to as the "potato chip" of the oceans because they are eaten widely by so many species.*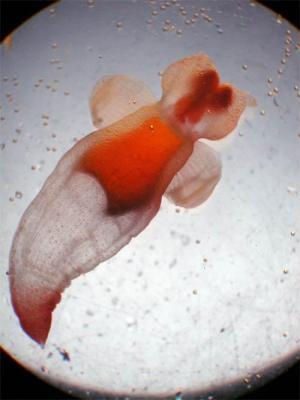 ©D.Forcucci
Microscope photo of a pteropod (pelagic snail).