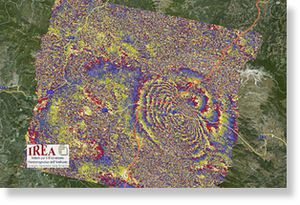 Studying satellite radar data from ESA's Envisat and the Italian Space Agency's COSMO-SkyMed, scientists have begun analysing the movement of Earth during and after the 6.3 earthquake that shook the medieval town of L'Aquila in central Italy on 6 April 2009.
Scientists from Italy's Istituto per il Rilevamento Elettromagnetico dell' Ambiente (IREA-CNR) and the Istituto Nazionale di Geofisica e Vulcanologia (INGV) are studying Synthetic Aperture Radar (SAR) data from these satellites to map surface deformations after the earthquake and the numerous aftershocks that have followed.
The scientists are using a technique known as SAR Interferometry (InSAR), a sophisticated version of 'spot the difference'. InSAR involves combining two or more radar images of the same ground location in such a way that very precise measurements - down to a scale of a few millimetres - can be made of any ground motion taking place between image acquisitions.