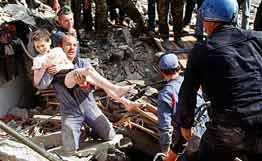 Over 100 people have been killed after a powerful quake hit the mountainous region of Abruzzo in central Italy, the Apcom news agency said on Monday.
Prime Minister Silvio Berlusconi said at a news conference in L'Aquila, the region's capital and close to the quake's epicenter, that about 1,500 people had been injured when the earthquake, measuring 6.3 on the Richter scale, struck in the early hours.
He added that the death toll "topped 50 people," but it was likely to rise as rescuers continue their search of the debris.