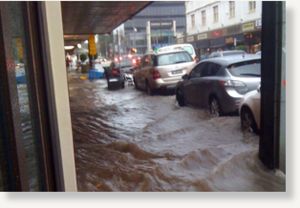 A super-cell thunderstorm has hit Victoria, bringing widespread flash flooding.
About a dozen people have been rescued from floodwaters in Mildura, in Melbourne's south-east near Geelong, and the State Emergency Service (SES) is responding to 1,400 calls for help.
Crews helped a woman and her two young children when their car became trapped in a flash flood at Mildura.
Firefighters have rescued a girl who was clinging to a tree branch after being swept away at Ashwood, in Melbourne's east.
And at Mulgrave, the fire brigade was called to assist a disabled man in a wheelchair who got stuck in water up to his hips.
Deb Mitchell from the Commercial Hotel in Werribee, in Melbourne's outer-west, says the pub is flooded.
"The drains overflowed, they just couldn't cope with the amount of water and all the water flooded right in through our sports bar area, flooded all the carpet and also in our kitchen the bistro had not long opened but we had to close because it was raining in our bistro," she said.
SES spokesman Lachlan Quick says the situation is set to worsen.
"Certainly across Mildura and other parts of north-western victoria we've had significant flash flooding due to these thunderstorms," he said.
"We expect that situation to worsen before it improves. There will be significant rainfall occurring from midnight tonight and that will got through till midnight tomorrow night.
"So we are urging people in those areas to be alert to their conditions."
The SES is urging people to stay off the roads.
"There's been a significant number of people needing to be rescued from cars trapped in floodwaters," Mr Quick said.
"We are urging people not to drive, ride or walk in floodwaters. It is one of the most dangerous things you can do and the main cause of injury and death when flooding occurs."
The storms have blacked out homes in central, western and northern Victoria and crews are trying to restore the supply to 25,000 homes.
The flash flooding has also caused road closures around the state.
In Melbourne, VicRoads' Dean Zabriesach says the Monash Freeway has been cut at Toorak.
"We've got systems on the freeway to deal with excess rain. We've got pumping systems, but when it reaches this sort of level, even those systems can't cope with them," he said.
"So temporarily it is closed, hopefully it will open fairly shortly."
The Calder Highway, south of Mildura, has also been flooded.
Flash flooding warnings have been issued for all Victorian districts except East Gippsland, and flood watches are current for the greater Melbourne catchments, north-east Victoria, west and south Gippsland and the Goulburn and Broken basins.
Landslips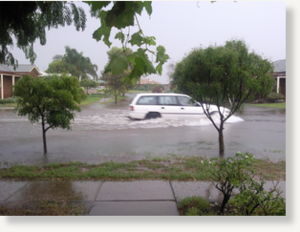 Meanwhile, people living in parts of Halls Gap in the state's west have been advised to leave their homes.
The SES says there is a risk of landslips and flash flooding and people should move to safety as soon as possible.
SES spokesman Tim Wiebusch says parts of Halls Gap flooded last month could be inundated again.
"There is a risk with this heavy rainfall, if it is to come off to the levels predicted, that we will see flash flooding back through that area again," he said.
"[We will also see] the increased risk of land slippage due to the impacts that have already been seen through the Grampians from the earlier event in January."
Northern Grampians Shire Mayor Ray Hewitt says the region was hard hit by January's floods.
"We certainly haven't finished the clean-up or the reconstruction of our infrastructure in terms of roads and culverts," he said.
"So the clean-up may be halfway through but there's a lot of that to do and there's also a lot of infrastructure that we haven't even got to.
"We've assessed them and we know they need to be done, but our works crews are just flat out trying to get essential roads and services open."
Mr Hewitt says landslips are a concern this weekend.
"We're being possibly a little bit cautious, but safety is the issue and if we get large rain events this next couple of days, it could cause some more instability in those landslip areas," he said.
Mavis Fitzgerald, who works in a Halls Gap shop, says the situation is frustrating.
"I have just now started lifting things up off floor level and I'm not too sure what else to do," she said.
"It's all a maybe. Last time that we had the rains through it was a definite. This is only a maybe so I'm a bit unsure how we'll go."
Areas of the state's north are also facing more floods, with the threat of severe thunderstorms over the next 48 hours.
Businesses at Rutherglen and Corowa have already been hit by flash flooding and incident control centres have been established at Bendigo and Wangaratta.
Mildura local Pat Hunt says the continuing wet weather is ruining crops.
"It's been like this for a while, but we've had drought for the last 10 years and now we seem to be getting rain like this every couple of days, so it's not good for grapes, it's not good for anybody," he said.