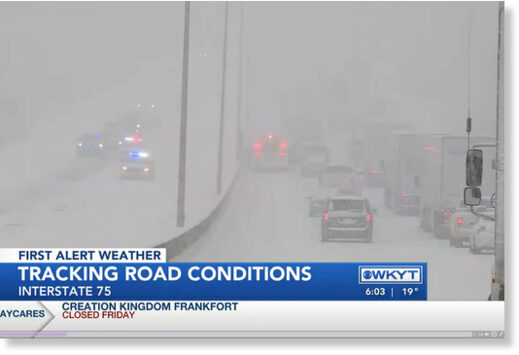 Intense winter weather shut down multiple major Kentucky highways Thursday afternoon
after a near-record snowfall caused a huge pileup involving dozens of cars and hundreds of collisions.
A 10-mile stretch of Interstate 64 near Mount Sterling was closed in the afternoon after 50 to 75 cars piled up on the slick roadway, causing many hours of traffic delays, according to
WKYT.
On Interstate 75 in Lexington, police stopped responding to non-injury car crashes after being on the scene of more than 100 during the day, the station said. About 20 other crashes resulted in injuries in the city.
A WKYT correspondent
said it took seven hours to cross a bridge leading out of Lexington on I-75
. By 7:30 p.m. the city had accumulated 9 inches of snow, just shy of the daily record,
the station said. Lexington typically sees only 14 inches of snow per year,
on average
, according to government data.