Auckland was hit by freezing hail storms just before 6pm and the AA sent out a general road safety warning as a wintry blast gripped much of the country.
Cold southerly winds laced with rain, sleet, hail and snow currently lashing parts of the country are expected to head offshore tonight.
Earlier today snow fell to 200m in Southland and the road warnings were issued for much of the country.
In the South Island State Highway 60 was closed north of Motueka and chains were required west of Oamaru and near Reefton.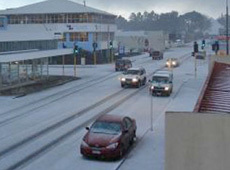 ©Malcolm Gayfer
Thick snow and hail blanketed much of the South Island today.