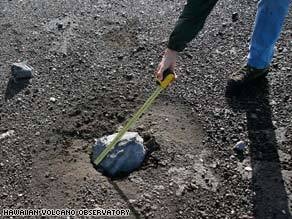 ©Hawaiian Volcano Observatory
Rocks ejected by the explosion created impact craters when they landed.
An explosion atop the long-erupting Kilauea volcano rained gravel-size rocks onto a tourist lookout, road and trail before dawn Wednesday, injuring no one but forcing parts of a national park to close.
It was the first explosion in Kilauea's main Halemaumau Crater since 1924, scattering debris over about 75 acres, said Jim Kauahikaua, scientist-in-charge at Hawaiian Volcano Observatory on the Big Island.