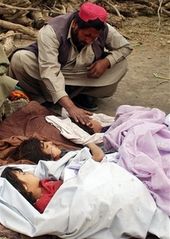 Wam - Desperate villagers clawed through piles of mud and timber looking for victims of an earthquake that collapsed thousands of homes in southwestern Pakistan before dawn Wednesday, killing at least 215 people.
As rescue workers resumed their search Thursday morning, officials said hopes of finding more survivors in the debris left by the 6.4-magnitude quake had dimmed.
"Almost all the rubble had been cleared by last night," said Shaukat Ali, the home secretary of the province of Baluchistan, where the quake occurred. "We don't know if anyone is still buried in the debris."
Army planes flew in tents, medical supplies and blankets to the quake zone in the province, erecting between 8,000 and 10,000 tents for some 15,000 homeless people in the impoverished region. Temperatures fell to around freezing overnight - a grim test for those forced to sleep in the open.
"I have lost everything," said Haji Shahbaz, mourning the deaths of 17 relatives in Wam, a hard-hit village. "Nothing is left here, and now life is worthless for me," he added, then wailed in despair, tears streaking his dust-caked face.
Pakistan is no stranger to natural disasters, but the quake comes at an especially precarious time for the Muslim country, with the civilian government battling al-Qaida and Taliban attacks while grappling with a punishing economic crisis.
As the army and other government agencies rushed to provide help, at least three hard-line Islamic organizations also were quick to aid quake survivors, according to an Associated Press reporter who toured the area.
Among them was Jamaat-ud-Dawa, designated a terrorist group by the U.S. government for its links to Muslim separatists fighting in India's portion of the disputed Himalayan region of Kashmir.
The group set up relief camps and won friends among survivors of a 7.6-magnitude quake that devastated Kashmir and northern Pakistan in October 2005, killing about 80,000 people and leaving hundreds of thousands homeless.
Baluchistan is home to a long-running separatist movement, but has so far been spared the level of militant violence seen in the northwestern tribal areas along the border with Afghanistan, where Muslim extremists are strong.
Wednesday's quake hit before sunrise as most people slept. Witnesses reported two strong jolts about an hour apart, saying the second at 5:10 a.m. caused the destruction, collapsing the flimsy mud-brick and timber houses common to this poor region.
"We were awoken with a big thundering noise and a tremor and we came out of our home and started reciting prayers," said Malik Abdul Hasmat, a 35-year-old teacher. "We went back inside because of the cold and then came the second and bigger jerk and all the homes collapsed."
As he spoke, excavators dug mass graves and villagers hacked away at the holes with spades. Over a loud speaker, a rescue official announced a grim find in the remains of one house: the body of young boy, believed to be around 1 year old.
The worst-hit area was the Ziarat valley, where hundreds of houses were destroyed in at least eight villages, including some buried in landslides triggered by the quake.
Provincial government minister Zamrak Khan said Thursday that 215 victims had been buried. Dilawar Kakar, mayor of the hilltop town of Ziarat, said 375 people were injured and around 15,000 left homeless. Ziarat itself, a popular summer resort since the days of the British empire, was spared major damage.
In the village of Sohi, a reporter for AP Television News saw the bodies of 17 people killed in one collapsed house and 12 from another. Distraught residents were digging a mass grave.
"We can't dig separate graves for each of them, as the number of deaths is high and still people are searching in the rubble" of many other homes, said Shamsullah Khan, a village elder.
Hospitals were flooded with dead and injured. One patient at Quetta Civil Hospital, Raz Mohammed, said he was awakened by the sound of his children crying before he felt a jolt.
"I rushed toward them but the roof of my own room collapsed and the main iron support hit me," he said. "That thing broke my back and I am in severe pain, but thank God my children and relatives are safe."
German Foreign Minister Frank-Walter Steinmeier said his country was offering $310,000 in immediate aid, but the head of Pakistan's National Disaster Management Authority said an international relief effort was not needed.
"God has been kind, it has been a localized affair," said Farooq Ahmad Khan. "I think we can manage it."
Pakistan is prone to seismic upheavals since it sits atop an area of collision between the Eurasian and Indian tectonic plates, the same force responsible for the birth of the Himalayan mountains. Baluchistan's capital, Quetta, was devastated by a 7.5-magnitude temblor in 1935 that killed more than 30,000 people.
___
Associated Press writer Ashraf Khan in Wam, Mattiullah Achakzai in Quetta and APTN cameraman Abdul Rahman in Sohi contributed to this report.