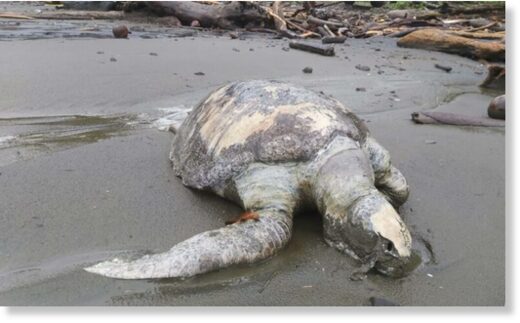 At least 151 sea turtles, most of them endangered green or Kemp's Ridleys, were found dead on the beaches of Panama's Pacific coast in September and October for reasons that are still unknown, authorities said Tuesday.
The acting director of the Panamanian Environment Ministry's Coasts and Seas Division, Marino Abrego, told Efe that a report issued Monday by that portfolio gave a breakdown by province: "61 turtles (dead) in Los Santos, 70 in Veraguas, two in Panama Oeste and 18 in Chiriqui."
It said green sea turtles and Kemp's Ridleys accounted for most of the deaths and that many of the reptiles were male.
The green turtle is a large species that lives in tropical and subtropical waters worldwide and is regarded as endangered by the International Union for the Conservation of Nature (IUCN) and the Convention on International Trade in Endangered Species of Wild Fauna and Flora (CITES).