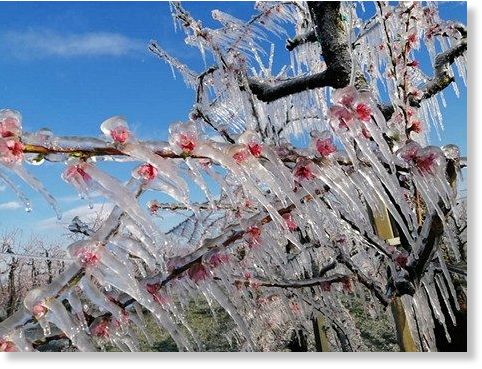 Frost on 24/03/2020 caused serious damage. In some areas of the Bologna and Ravenna provinces and in the central plains in Emilia,
temperatures almost reached -6°C.
Emilia-Romagna
Apo Conerpo president Davide Vernocchi reports "considerable damage to stone fruit: almost the entire apricot production is compromised and peach, nectarine, plum and golden kiwi productions have been heavily damaged. We still have to assess the damage on top fruit and especially pears."
"There is nothing left. I do not know how long it lasted, but enough to damage every single fruit.
I believe it will be difficult for producers to honor payments this year, as we will have no income," explains Massimo Franchini, a peach and apricot producer from Casal Fiumanese (BO).
Technician Alessandro Passerini confirms that
"apricots have been heavily damaged, so much so that the entire production has been lost in some cases.
As for peaches, it will take a few days to assess the situation."