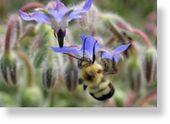 We have all been conned. Even the name suggests industry: the worker bumblebee is, we thought, the epitome of effort as it buzzes around, foraging for food. But now research has revealed that, far from striving tirelessly for the good of the colony, bees are as prone to slacking as the rest of us when they can get away with it.
Scientists at Queen Mary, University of London, discovered that some bumblebees have a tendency to ignore promptings to go out to get food, choosing to rest instead if there is even a tiny amount of food in their store.
Dr Nigel Raine and his colleague Dr Mathieu Molet studied how bees make sure they have enough food for their needs. They found that the insects use a sophisticated system to decide whether they need to go out to work or whether they can afford to take it easy.