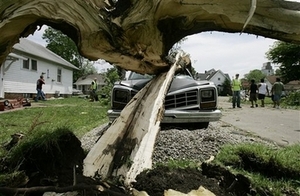 ©AP Photo/Darron Cummings
Workers remove a tree that fell through the middle of a truck during a tornado in Edinburgh, Ind., Wednesday, June 4, 2008. The weather service confirmed that tornadoes hit the Moscow and Edinburgh areas based on eyewitness reports and a crew will head out Wednesday to investigate the storm damage, meteorologist Dave Tucek said.
ANNANDALE - Severe storms that downed power lines and trees across a large swath of the country Wednesday were blamed for three deaths. A woman died Wednesday afternoon when a tree fell on a vehicle in Annandale, a Washington, D.C., suburb, a fire department spokesman said.
Earlier Wednesday, authorities in West Virginia recovered the body of a 20-year-old man swept away while trying to drive his truck through high water. Gov. Joe Manchin declared a state of emergency in at least 15 West Virginia counties after flooding and mudslides closed numerous roads. Some places reported more than 3 inches of rain.