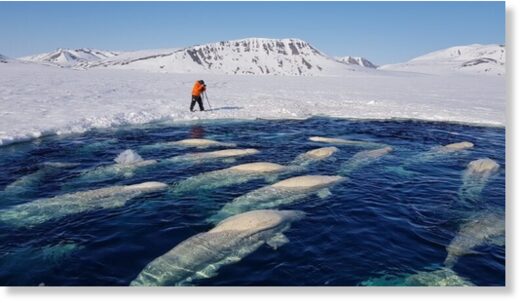 Fifty beluga whales are stuck in Penkigngei Bay. Presumably, they have been in ice captivity since January, but specialists saw them only in April. The animals are fed and constantly monitored.
Hopefully, the Beluga whales, stuck in ice captivity in Chukotka can soon escape as thermometers began to rise and the ice begins to melt. However, when the fast ice will completely melt is still impossible to say - perhaps in 10 days - or perhaps this may happen at the end of May, the press service of the Beringia National Park reports .
According to a zoologist specializing in marine mammals, Grigory Tsidulko, beluga whales are active swimmers, thanks to which the polynya remained open and continues to expand.
They have already eaten most of the fish they could catch in the 4 months in the trap.