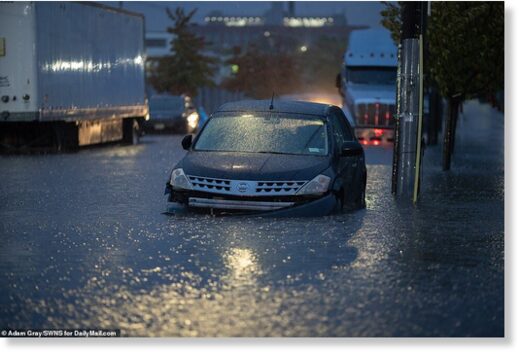 Heavy rain was pummeling the TriState area on Tuesday evening, with 65mph winds expected in Connecticut and Bridgeport airport breaking a rainfall record set in 1958.
On Long Island, the weather station in Ronkonkoma saw 3.33 inches of rain fall by Tuesday evening - smashing the previous daily record of 1.50 inches, set in 1981. In New York City, JFK airport also set a new record, with 2.05 inches of rain falling - the most since 2002.
Power company Con Edison, which supplies the region, said there were 'scattered outages' on Tuesday night, and urged people not to go near downed power lines.
As of Tuesday night,
Massachusetts was beginning to feel the force, with Cape Cod and Boston being hit. The state was reporting about 11,000 power outages, as the storm brought down trees along the coast.