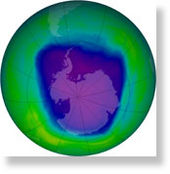 The Antarctic ozone hole grew to the size of North America in September, the fifth largest recorded in nearly 30 years.
The information released yesterday by the United States National Oceanic and Atmospheric Administration (NOAA) said the ozone hole fluctuated in response to temperature and sunlight.
It had grown to the size of North America in a one-day maximum in September, making it the fifth largest since NOAA satellite records began in 1979.
The primary cause of the ozone hole was human-produced compounds called chlorofluorocarbons, or CFCs, which released ozone-destroying chlorine and bromine into the atmosphere.