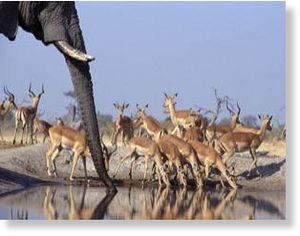 Are elephants the bullies of the national parks? Should they be culled to give other creatures a look-in at the water hole?
These are questions that were asked recently when figures showed that, as some elephant populations have increased due to reduced poaching and creation of artificial water holes, other herbivore species have declined.
But when Marion Valeix, then at the National Centre for Scientific Research in Beauvoir-sur-Niort, France, set out to discover if the elephants of Hwange National Park in Zimbabwe were harming other herbivores by chasing them away from water holes, she got a surprise.
Her team found that members of nine herbivore species (including buffalo, zebra, warthog and wildebeest) rarely backed off when elephants were around. Instead, all herds increased their drinking time - normally between 5 and 10 minutes - by around 2 minutes.