Like a giant fist punching through the earth, a 1,000-foot long section of the beach below Bluff Point rose up 20 feet from the tidelands sometime last Friday or late Thursday, pushing boulders up from the ocean bottom, cracking sandstone slabs and toppling rocks upside down.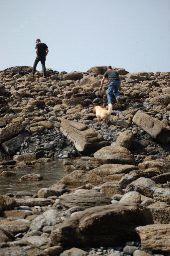 Below Bluff Point, a new fissure opened up at the base of the 800-foot high cliff. The uplift could be a re-activation of a landslide that happened perhaps 12,000 years ago.
"There was just beach before," said Ron Hess, who lives on Bluff Road above the new uplift. "Now there are tidal pools."
"You can see a rock circle," said Marilyn Hess. "All you used to see was one big rock, and now you can see this uplift of rock."
Scientists don't know exactly what caused the uplift. It would take an earthquake over magnitude 7 to cause an uplift that high, said Peter Haeussler, a geologist with the U.S. Geological Survey in Anchorage.
"I have no idea," he said when he first learned of the uplift. "This sounds really, really bizarre."
The uplift runs in an arc around a small cove about 1.3 miles east of Diamond Creek Beach, a pleasant day hike accessible from a trailhead near Diamond Ridge Road and the Sterling Highway (see Outdoors, page 16). Where tide-covered boulders had once been, the ground now rises up in a long ridge of gray clay, sandstone, coal and barnacle-covered boulders. In last weekend's heat, rockweed had dried up and mussels rotted. The cobble beach itself seemed higher. Small rockfalls trickled down to the beach.
Visitors to the beach on Friday morning after low tide reported the rockweed remained wet and fresh, suggesting the uplift happened sometime early July 3 or late July 2.
The Hesses said they didn't feel any major earthquakes, and none were measured by USGS. They said they felt some small earthquakes last week.
"They felt like three-pointers to us," Marilyn Hess said. "We thought 'It's probably Redoubt.' They didn't feel like hook-and-shake. They felt like little bumps."
Haeussler ruled out an earthquake causing the uplift.
"You would have felt a huge earthquake if it was earthquake related," he said.
Ed Berg, a naturalist with the U.S. Fish and Wildlife Service, Kenai, visited the site Sunday. He said at first he thought the uplift could have been earthquake related. The west-northwest to east-southeast orientation of the uplift cuts across known earthquake faults that run southwest-northeast.
Bretwood Higman, a Seldovia geologist with a Ph.D. from the University of Washington, Seattle, speculated that the uplift could have been caused by reactivation of a 9,000 to 12,000-year-old landslide of Bluff Point. The ancient landslide would have eroded into the current bench below the Bluff Point cliffs.
"It must have been a long time ago. It all had been beveled off into a nicely sloping beach," Berg said.
According to "Bluff Point Landslide: A Massive Rock Failure near Homer, Alaska," a 1979 paper by Dick Reger, a geologist with the Alaska Division of Geological and Geophysical Surveys, a 1.5-mile long landslide below the cliffs running below Baycrest Hill happened sometime after the last glaciation, perhaps 9,000 to 12,000 years ago. Wood found in the landslide has been carbon dated at about 1,500 years old, Reger wrote.
Higman said that below the bluff and bench might be a curving zone of weakness, with the curve sloping up toward the beach. A huge land mass above the zone might have slipped, with the underground or beach end rotating up, thrusting the clay and rocks above it and causing the new uplift. The test of his theory would be to look for inland fissures, or scarps, at the base of the bluff. The Hesses said that's what they have seen.
"You can look down and see those crevices," Ron Hess said. "There's no doubt. It's quite noticeable."
"It's a big sand scoop," Marilyn Hess added. "The cracks are big and black."
Why the uplift happened now -- and didn't happen in the 1964 Great Alaska Earthquake -- is unknown.
"That's what's really mysterious here is 'Why now?'" Higman said. "There weren't any substantial earthquakes. The ground wasn't really wet."
The area below Bluff Point is undeveloped, with only a few beach cabins and Overlook Park, part of Kachemak Bay State Park. Closer to Homer, though, are a few subdivisions on the bay side of Baycrest Hill.
"It has implications for that big slide block in general," Higman said. "It says things are still loose there. It must have been a substantial movement to push up that big a beach surface. That's relevant to people who live in the area. It's an important thing to investigate."
No field work by state or federal geologists has yet to be done, although Haeussler said he would be interested in examining the site. Berg thought the uplift could begin to erode with the next cycle of high tides and fall storms. The uplift is accessible on low tides and visible on high tides. Unstable ground and deep cracks make walking on the uplift treacherous. There also is a deep hole about 10-feet wide and 7-feet deep on the beach side of the uplift -- wide enough to swallow a four-wheeler.
"It's very intriguing," Higman said. "It certainly threw me for a loop," he added.