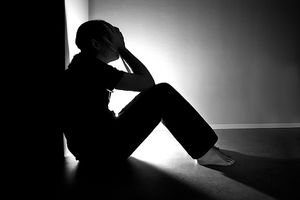 The world might seem a little grayer than usual when we're down in the dumps and we often talk about "feeling blue" — new
research
suggests that the associations we make between emotion and color go beyond mere metaphor. The results of two studies indicate that feeling sadness may actually change how we perceive color. Specifically,
researchers found that participants who were induced to feel sad were less accurate in identifying colors on the blue-yellow axis than those who were led to feel amused or emotionally neutral.
The research is published in
Psychological Science,
a journal of the
Association for Psychological Science
.
"Our results show that
mood and emotion can affect how we see the world around us,
" says psychology researcher Christopher Thorstenson of the University of Rochester, first author on the research. "Our work advances the study of perception by showing that sadness specifically impairs basic visual processes that are involved in perceiving color."
Previous studies have shown that emotion can influence various visual processes, and some work has even indicated a link between depressed mood and reduced sensitivity to visual contrast
. Because contrast sensitivity is a basic visual process involved in color perception, Thorstenson and co-authors Adam Pazda and Andrew Elliot wondered whether there might be a specific link between sadness and our ability to perceive color.