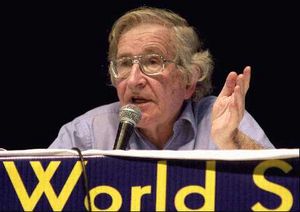 It is always a matter of concern when people look to a single individual for their worldview. The Right has its ideological spell-binders from Fox to Republican Congressional leaders. Religious fundamentalists have their "Man" who holds the staff of knowledge and soothes or inflames the congregation. Sports fans have TSN and the Military have their one stop mind-shop in
Jane's Defence News
along with their catalogue of the latest and greatest in destructive war toys. Fact is, every group and sub-group of people, more often than not, defer to something or someone to help shape their views.
This perhaps is a path of least resistance, chosen usually because one can solicit the goings-on of both sides of the fence from one single source rather than discovering the totality for themselves by direct exposure. Life is so much easier when your reality is pre-digested for you. As it happens, this tendency is just as true of the Left as it is of the Right.
This brings us to one representative of the Left World-View who is extremely intellectual and influential, not only in North America, but the world over. To the many Left thinking/leaning, there are not many of his calibre, and so when issues arise, many may acquiesce first to the words of Noam Chomsky before forming their own opinion which usually ends up being a kind of synthesis of Noam's own mind-view.