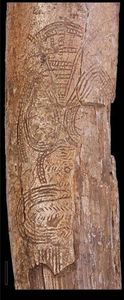 Brno - The prehistoric Czech "Venus of Predmosti", north Moravia, an engraving of a woman on a mammoth tusk, which is one of the oldest artifacts in Europe, may exist in another version that is in a U.S. collection, Martina Galetova, from Brno's museum, has told CTK.
The engraving dating back to the Upper Palaeolithic Age was found over 100 years ago by archaeologist Martin Kriz.
It is housed in the Moravian Land Museum (MZM) in Brno.
The possible "twin sister" of the "Venus of Predmosti" is owned by U.S. art collector Duncan Caldwell.