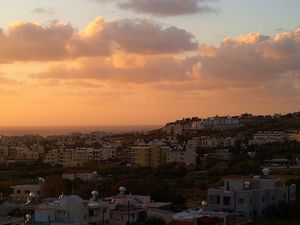 Aarchaeological investigations at the edges and to the south of the Hellenistic-Roman theatre of Nea Paphos have identified significant structures of the ancient city, according to an official announcement by the Department of Antiquities yesterday.
The investigations were carried out October 6 to November 17 of last year by the University of Sydney, under the direction of Emeritus Professor Richard Green, Dr Craig Barker and Dr Smadar Gabrieli.
The announcement said the work had aimed at exploring the relationship between the theatre and the ancient city's infrastructure.
To this end, a ground-penetrating radar (GPR) survey had been carried out to record a large area to the south of the theatre.
The announcement added that a number of important structures had been identified, but that earthquake damage had made it difficult to delineate the precise outline of the city.
Additionally, excavations had continued to the south-east of the theatre, near the site of a long, narrow building, deemed to be a Roman fountain house or 'nymphaeum'.
The announcement noted that a limestone-paved Roman road, cleared by the team and running from the southern edge of the nymphaeum, would have been one of the city's major thoroughfares - particularly for pedestrians travelling to the theatre. Two wheel ruts were also found along a section of the road.
Excavations in the western entranceway of the theatre, or 'parodos', had exposed the edge of a deep bedrock quarry that had probably provided stone for the original phases of the theatre, as well as barrier walls meant to anchor the soil built up to provide support for theatre seating.
The announcement added that the team had also excavated a geometric mosaic probably dating back to the 5th century AD, which, if accurate, may provide insight into post-theatre activity on the site.
Finally, the announcement said that cataloguing of medieval finds from a well on the site had also been carried out.
Further excavations for the area south of the theatre are in the pipeline.