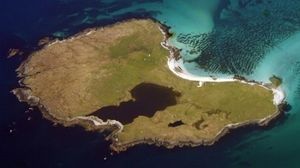 'Incredibly significant find' on tiny island of Boreray is 'is further evidence of the international importance of the St Kilda archipelago'.
Evidence of a permanent Iron Age settlement on one of Europe's most inhospitable islands has been uncovered by archaeologists.
It had been thought that the St Kildan island of Boreray, 40 miles west of the Outer Hebrides in the Atlantic Ocean, had never been populated.
Inhabitants of nearby Hirta island only visit Boreray in the summer to hunt birds and gather wool.
But the new discovery suggests that people may have lived on the steep slopes of the island back in prehistoric times.
The last 36 inhabitants of the St Kilda archipelago left the islands in 1930.
Archaeologists from the Royal Commission on the Ancient and Historical Monuments of Scotland and the National Trust for Scotland made the discovery on an eight-day research trip to Boreray.
Surveyor Ian Parker said: "This is an incredibly significant find which could change our understanding of the history of St Kilda.
"Until now we thought Boreray was just visited for seasonal hunting and gathering by the people of Hirta. But this new discovery shows that a farming community actually lived on the island, perhaps as long ago as the prehistoric period.
"These agricultural remains and settlement mounds give us a tantalising glimpse into the lives of those who lived for a time on Boreray.
"Farming what is probably one of the most remote and inhospitable islands in the North Atlantic would have been a hard and gruelling existence. And given the island's unfeasibly steep slopes, it's amazing that they even tried living there in the first place."
The team found remnants of an agricultural field system and crop terraces. Three possible settlement mounds were also uncovered. One of these contained the intact remains of a stone building with a "corbelled" roof, sealed by soil over the centuries.
The archaeologists think some of the remains date to the Iron Age.
St Kilda is one of 27 locations in the world with dual World Heritage Status by Unesco in recognition of both its natural and cultural heritage. Cared for by the National Trust for Scotland, it is home to tens of thousands of seabirds, including 45,000 gannets, and a few hundred wild sheep.
Hirta is the largest island in the archipelago.
Jill Harden, who is under contract with the National Trust for Scotland, said: "New discoveries and interpretations are fundamental to people's understanding of ways of life associated with all the islands and stacs that make up the St Kilda archipelago.
"It is refreshing to know that there is still so much to learn about these islands."
The team were on the island last summer and have spent the past year analysing their findings.
Culture Secretary Fiona Hyslop said: "This extraordinary discovery is further evidence of the international importance of the St Kilda archipelago, reinforcing its value as one of Scotland's five World Heritage Sites."