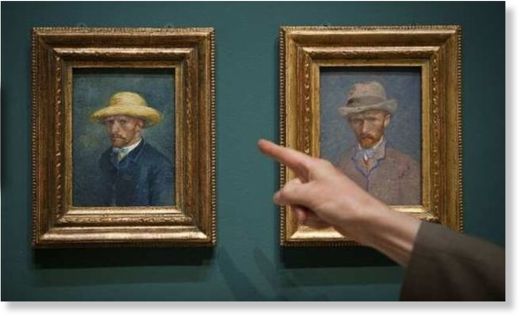 Art researchers at Amsterdam's Van Gogh Museum said Tuesday they have "discovered" a work by Dutch painter Vincent van Gogh -- long thought to have been a self-portrait -- was in fact a picture of his younger brother Theo.
"According to current opinion, Vincent van Gogh never painted his brother Theo, on whom he was dependent," the Van Gogh Museum said in a statement.
But senior researcher Louis van Tilborgh now believed the 1887 painting of a man wearing a light-coloured hat and a dark blue jacket was in fact Van Gogh's brother Theo, Vincent's junior by five years.
"The conclusion is based on a number of obvious differences between the two brothers," said the museum, pointing out dissimilar features including the neatness of the subject's beard and his round-shaped ear, "something Vincent did not have."
"The form and colour of Theo's beard, more ochre than red, is also an indication" as well as the man's "eye-colour and the style in which he was dressed supports the new insight," the museum said.
"The portrait matches pictures of Theo," Van Tilborgh told the Dutch news agency ANP.
Theo van Gogh died six months after his older brother shot himself in a wheatfield at the age of 37 in Auvers, France, in July 1890.
The new investigation's results are published in a 600-page catalogue, put together by Van Tilborgh and three other researchers at the museum, which houses the largest collection of Van Gogh's paintings and letters.