Archeologists could be on the brink of discovering Mexico's first Aztec royal tomb after they unearthed a ceremonial carved stone platform beneath an existing ruin.
The platform, carved with snake heads, was found under Mexico City's Templo Mayor ruin, a complex of two huge pyramids and numerous smaller structures that contained the ceremonial and spiritual heart of the pre-Hispanic Aztec empire.
The find has raised hopes that there could be an emperor's tomb buried nearby.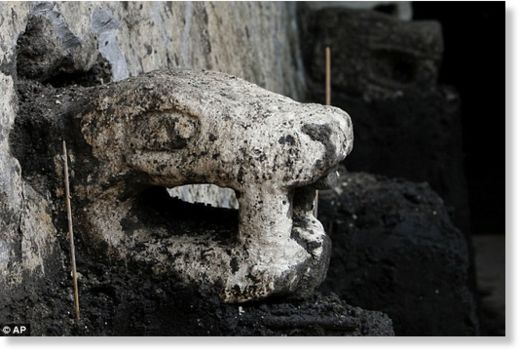 No Aztec ruler's tomb has ever been located and researchers have been on a five-year quest to find a royal tomb in the area of the Templo Mayor.
Mexico's National Institute of History and Anthropology said the stone platform is about 15 yards in diameter and probably built around A.D. 1469.
The site lies in downtown Mexico City, which was built by Spanish conquerors atop the Aztec capital of Tenochtitlan.