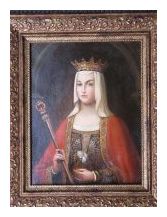 Guides at Kyiv's famed St. Sophia Cathedral like to tell a story about this architectural wonder from the Kyivan Rus period.
Sometime in the 1920s, when tyrant Josef Stalin was demolishing churches throughout the Soviet Union, the government decided to tear down the 11th century cathedral.
The plan was to transform its grounds into a park commemorating a 1917 Crimean Red Army victory.
Along with others who lobbied the dictator to leave the cathedral alone were the French. St. Sophia, they said, also had important cultural meaning for them: Their 11th century queen, Anna, hailed from Kyiv and a book she carried to her new home was the one on which French
kings for generations had taken their oath.
The Soviets relented and St. Sophia was saved.
Now, a millennium after Anna left Kyiv, Ukrainians are able to get a better understanding of what all the fuss was about with the 2010 publication of the Reim's Gospel of Anna Yaroslavivna.