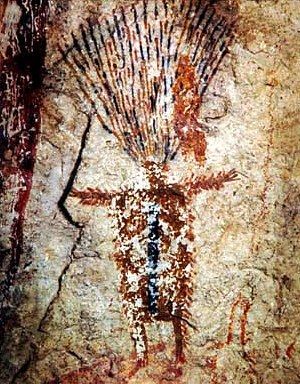 Thousands of years ago, Native American groups painted art under cliff overhangs along the Rio Grande. The arid climate preserved hundreds of these vivid pieces. Archaeologist Solveig Turpin discusses what the art reveals about changes in climate and the social structure of early Americans, and why it has become difficult to study.
When you think of the Texas-Mexico border, you probably think about the desert, the border fence, immigration. But does art ever come to mind? Well, in today's debates about the border, you don't often hear about this. But the borderlands are a treasure trove of archaeological history. Along the Rio Grande, the river that separates Texas and Mexico, in hidden rock shelters, under cliff overhangs, you can find hundreds of mysterious drawings of humans and animals. The area has one of the highest concentrations of archaic rock art in all of North America. I bet you didn't know that.
But the people who painted them were not the tribes we think from the old Westerns and history class. They lived in the area long before the Comanches or the Apaches ever came through. The art is not hundreds, but thousands of years old. And my next guest says this is some of the oldest religious art in North America. And archaeologists on both sides of the border are studying these sites to piece together who created the art and why.
Let me introduce my guest. Dr. Solveig Turpin is a retired archaeologist who has studied the rock art in the region for decades. She's a former director of the Borderlands Archaeological Research Unit at the University of Texas at Austin. She's author of the book "The Indigenous Art of Coahuila," about rock art in Northern Mexico. She joins us here at the Witte Museum in San Antonio, which has a terrific collection of the artwork in the museum. If you're coming to San Antonio, stop at the Witte and take a look at it. Thank you for joining us.