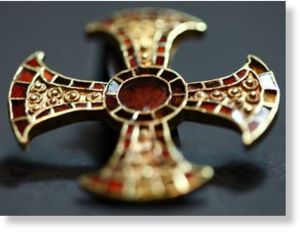 The remains of a mysterious Anglo-Saxon princess, who died thirteen and a half centuries ago, have been found in a field three miles south of Cambridge. Aged just 16 when she died, and buried lying on a special high status funerary bed, she was laid to rest with a small solid gold, garnet encrusted, Christian cross upon her chest.
Her exact identity is as yet a complete mystery. However, it's likely that she was a member of one of the newly Christianized Anglo-Saxon royal families of the period. She was buried fully clothed, her bronze and iron chatelaine (belt hook) and purse, still attached to her leather belt.
A clue to the circumstances of her death is the presence of three other individuals buried in separate graves alongside her (two women aged around 20 and one other slightly older individual of indeterminate sex, but conceivably female). It's likely that they died at the same time - probably from some sort of epidemic. Significantly, the Anglo-Saxon Chronicle mentions that England was devastated by the plague in 664 AD (around the very time that the archaeological evidence also suggests they died).