New archaeological relics from the Neolithic era have surfaced in Knowth, Co Meath, reports the
Meath Chronicle
. The new finds were discovered at an area just southeast of the passage tomb cemetery at Brú na Binne, which has been the focus of Professor George Eogan's study for the past few decades.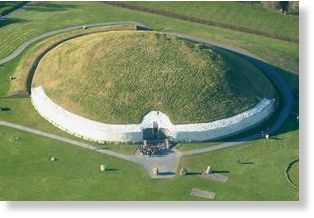 At the site, a "number of previously unknown large-scale monuments" have been discovered. Joe Fenwick, a member of the archaeology department at NUI Galway, conducted a number of "noninvasive, topographical" surveys of the area in conjunction with Professor George Eogan.
With their study, the team has discovered "a complexity of sub-surface wall-footings, earth-filled ditches, and post-pits...This research confirms that the archaeological footprint of Knowth extends over a far greater area than previously thought," notes
The Meath Chronicle
.