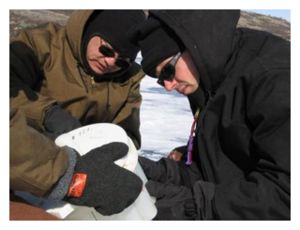 The end of the Norse settlements on Greenland likely will remain shrouded in mystery. While there is scant written evidence of the colony's demise in the 14th and early 15th centuries, archaeological remains can fill some of the blanks, but not all.
What climate scientists have been able to ascertain is that an extended cold snap, called the Little Ice Age, gripped Greenland beginning in the 1400s. This has been cited as a major cause of the Norse's disappearance. Now researchers led by Brown University show the climate turned colder in an earlier span of several decades, setting in motion the end of the Greenland Norse. Their findings appear in
Proceedings of the National Academy of Sciences.
The Brown scientists' finding comes from the first reconstruction of 5,600 years of climate history from two lakes in Kangerlussuaq, near the Norse "Western Settlement." Unlike ice cores taken from the Greenland ice sheet hundreds of miles inland, the new lake core measurements reflect air temperatures where the Vikings lived, as well as those experienced by the Saqqaq and the Dorset, Stone Age cultures that preceded them.
"This is the first quantitative temperature record from the area they were living in," said William D'Andrea, the paper's first author, who earned his doctorate in geological sciences at Brown and is now a postdoctoral researcher at the University of Massachusetts - Amherst. "So we can say there is a definite cooling trend in the region right before the Norse disappear."