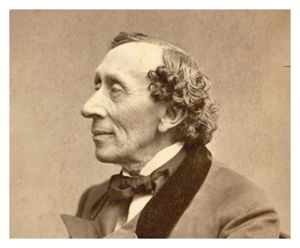 Danish experts believe they have found the first fairy tale written by Hans Christian Andersen (1805-1875).
Titled
Tællelyset
(
The Tallow Candle
), the ink-written manuscript was found by local historian Esben Brage at the bottom of an archive box. Brage made the discovery in October in the historical archive on the island of Funen, where the Danish author was born.
Two months later, historians confirmed that the six-page manuscript was indeed written by Andersen. They dated the document to the mid-1820s, when the writer was in his late teens.
"I am in no doubt that it has been written by Andersen," Ejnar Stig Askgaard of the Odense City Museum told the Danish daily
Politiken.
The newspaper has translated and published
a version of the story in English
.
The front page of the document reads "To Madam Bunkeflod from her devoted H.C. Andersen."
A vicar's widow, Mme Bunkeflod lived opposite Andersen's childhood home. Historians know that the writer visited her often as a child, borrowing her books.
"The fairy tale was a present. A present of thanks to a woman whose home had been very important to him," Askgaard said.
The Bunkeflod family then sent the manuscript to another family close to Andersen, the Plum family, in whose archives the story was found. A dedication written on the document later in blue ink reads: "To P Plum from his friend Bunkeflod."
Experts believe that the neatly written document is likely the copy of an original manuscript that has since been lost.
The story is about a neglected and dirty tallow candle which finds happiness when a tinder box sees its inner beauty and lights its wick.
"
The Tallow Candle
had found its right place in life - and shown that it was a real candle, and went on to shine for many a year, pleasing itself and the other creations around it," Andersen wrote.
Although the tale is not at the level of Andersen's later works, it is the most important find since the 1920s, when the writer's memoirs were discovered at the Royal Library.
"This is a sensational discovery. Partly because it must be seen as Andersen's first fairy tale, and partly because it shows that he was interested in the fairy tale as a young man, before his authorship began,"Askgaard said.
Andersen's first fairy tales were published in 1835. He went on to write some 160 stories, including classics like
The Ugly Duckling, The Little Mermaid, The Emperor's New Clothes
and
The Little Match Girl
that have been translated into more than 100 languages.