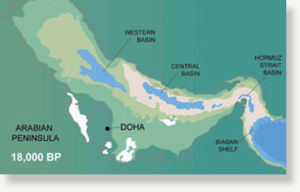 Is the Arabian Gulf the Cradle of Civilisation? Yes, postulates Dr Jeffrey Rose, archaeologist and researcher at the University of Birmingham, UK, in a recently published paper. Rose's paper summarises the theories that are now gaining ground and causing considerable excitement among Middle Eastern archaeologists and historians: that the shallow waters of the Gulf may well hide evidence of the earliest human migrations out of Africa.
Around 8,000 years ago, when the last Ice Age drew to a close, rising sea levels resulting from the melting of the ice caused the Indian Ocean to break through a natural barrier in what is now known as the Straits of Hormuz. In what must have been the mother of all waterfalls, sea water poured through the gap and over a period of some 200 years flooded what had been a fertile plain, watered by rivers including the Tigris and Euphrates in what is now Iraq, and springs which welled up from an aquifer through the karstic limestone which lines the basin. Such springs, known as khawakh in local Arabic, still exist to this day and are thought to have given rise to the name Bahrain - 'two seas', ie salt and fresh water.
During the Pleistocene period, which ended around 12,000 years ago, the inhabitants of Arabia were among the first anatomically modern humans to branch from the common ancestral population that first appeared in East Africa some 190,000 years ago.