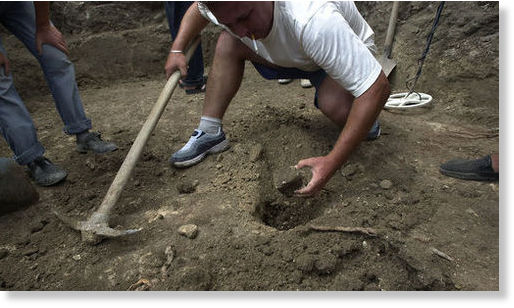 Bulgarian archaeologists have found the remains of what seems to be a 7500-year-old prehistoric skeleton in the region of Koriyata, near the town of Suvorovo in northeast Bulgaria, Focus news agency reported on June 27 2011.
The skeleton was found during excavations of an ancient village dated from fifth century BC.
Historian from Varna university and leader of the expedition in the region Koriyata, Vladimir Slavchev, described the discovery as "an unusual finding" because complete prehistoric skeletons were very rarely preserved.
The skeleton was found lying on the floor of what seemed to be his residence and archaelogists concluded that the cause of death had not been natural.
The gender is to be identified but it is certain that the fossil is of a great age.
Excavations of the prehistoric village in the region of Koriyata started in summer 2010 when the terrain went through geomagnetic scanning.
The stone architecture of the village is part of the already excavated tumulus near Dourankulak and Draganovo, near the town of Dobrich and the tumulus near the town of Provadiya near Varna.
Further research and excavations will be launched in the Koriyata region as the findings can shed light on the day-to-day-life of the prehistoric people who lived there.