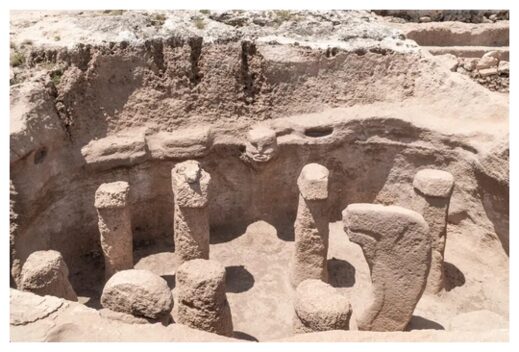 Karahan Tepe is a site close to Gobekli Tepe, and roughly the same age (see
Karahan Tepe - The Sister site to Gobekli Tepe
) it was discovered in 1997 but not surveyed until 2000. This revealed basin like pools carved in hard rock, and a collection of tools such as adzes, chisels, beads, stone pot fragments, grinding stones and pestles.
There were also arrowheads, scrapers, perforators, blades etc, made of flint or obsidian. This suggested to the archaeologists the people of Karahan Tepe were essentially hunter gatherers - or they practised animal husbandry. A lack of farmed vegetation was the biggest surprise.No evidence of cereals for example, or legumes. Nothing.
The site is now classified as pre pottery and pre-Neolithic, and is dated between 10,000 and 6500BC.
This corresponds to nearby sites such as Gobekli Tepe and Sefer Tepe etc. What is clear is that the site was intentionally built by the inhabitants as the wider site is said to contain circular homes. The ritual complex and ceremonial structures have been found cut into the bedrock.