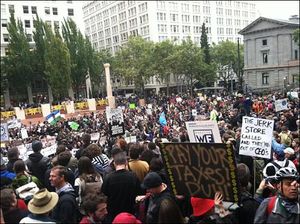 Update: Certain mainstream media news outlet in Portland are claiming that the protests goals are to disrupt traffic and cause problems.
This is an outright lie
.
The corporate controlled media is doing everything it possibly can to protect Wall Street and The Federal Reserve and in return The Intel Hub will do everything it possibly can to counter the controlled medias disgusting fake journalism and with
your help
we can do it!
In what may well be the biggest opening day crowd for all the Occupy Protests around the country, the Occupy Portland Protests have kicked off with over 5,000 protesters marching through the streets!