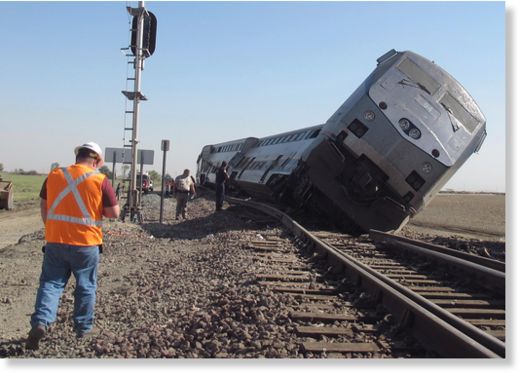 Hanford, California - Two cars and the locomotive of an Amtrak train carrying about 169 passengers derailed Monday after colliding with a big rig truck in California's Central Valley, authorities said.
At least 20 passengers suffered minor to moderate injuries, authorities said.
The 12:25 p.m. crash occurred when the driver of the tractor-trailer carrying cotton trash failed to yield and hit the train, authorities said. The impact pushed the two passenger cars and the locomotive off the tracks south of Hanford, a farming town.
The train traveled about 600 feet after the collision before hitting a switchback and derailing, according to California Highway Patrol Officer Scott Harris.
Officials have not determined how fast the train or the truck were going, but the average speed for Amtrak through the area is 70 to 80 mph, while the speed limit on the roadway where the truck was traveling is 55 mph, Harris said.
After the crash, metal pieces from the truck could be seen inside the train, which was covered by cotton seeds. Several pieces of luggage were also scattered around the area.