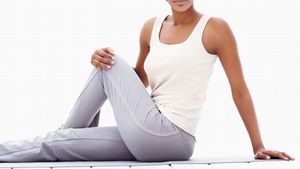 A New York woman is suing her gym after she reportedly awoke from meditating to find a maintenance worker masturbating next to her, according to court documents.
Keiko Herskovitz, 55, of New York City, was lying down with her eyes closed in a studio room at Equinox's Pure Yoga West following her yoga class when an employee came in to clean the room. But when she opened her eyes, she allegedly saw "a maintenance associate, about two feet away, masturbating," court documents said.
After Herskovitz realized what he was doing, the employee "quickly covered himself with a yoga blanket and ran out of the room," according to court documents.
The suit alleges that Herskovitz, who takes classes at the studio about four times a week, alerted the studio's manager on duty.
But the manager reportedly did not believe her.
"She was very upset that she was treated that way," Herskovitz's attorney, Eric Creizman, said.
Herskovitz is suing Related Companies, a real estate development firm that owns Equinox, for undetermined damages.
Creizman told ABC News his client reported the incident to the police the day it occurred. A few days later, Herskovitz received an email from the studio to tell her they were "taking [the incident] seriously," he said.
Meanwhile, "Pure Yoga has not reported the offender to the police or has taken any action against the offender," court documents said.
"We take the allegations seriously," said a spokesman for Equinox. "However, we have already been told by the police that there is no evidence that anything happened."
Still, Herskovitz is "shaken up about the whole incident," Creizman said.
Creizman said he didn't think his client, who had been a member of Pure Yoga for three years, would go back to the studio with the current management in place.
"She's a very gentle person, she doesn't make a lot of noise. She's not loud, she's not aggressive, and I think people take advantage of that," Creizman said.
Herskovitz declined to speak to ABC News.