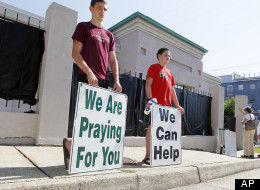 Jackson - Mississippi could soon become the only state without an abortion clinic because of a new law taking effect this weekend. Critics say the law would force women to drive hours across the state line to obtain a constitutionally protected procedure, or could even force some to carry unwanted pregnancies to term.
Top officials, including the governor, say limiting the number of abortions is exactly what they have in mind.
Republican Gov. Phil Bryant frequently says he wants Mississippi to be "abortion-free."
"If it closes that clinic, then so be it," Bryant said as in April as he signed the law, which takes effect Sunday.
Abortion rights supporters have sued, asking a judge to temporarily block the law from taking effect. So far, that hasn't happened.