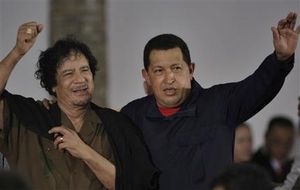 Caracas, Venezuela - Venezuelan President Hugo Chavez condemned what he called "indiscriminate bombing" by the U.S. and its allies in Libya, saying Sunday that the assault is unjustified and will only unleash more bloodshed.
Cuba's government also criticized the attacks and called for the conflict to be resolved through negotiation.
Chavez said the U.S. is after Libya's oil, and warned President Barack Obama not to try any similar intervention in the South American country. "With Venezuela, don't even think about it, Mr. Obama," he said.
Chavez, who has long-standing ties to Libyan leader Moammar Gadhafi, demanded the airstrikes be halted and echoed claims of civilian casualties by Libya's government, which said 48 people were killed.
"Civilian victims have now begun to appear because some bombs are launched - 200, 400 bombs from out there at sea - and those bombs fall where they fall," Chavez said during his weekly television and radio program.