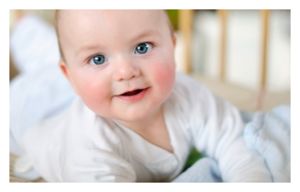 Last week,
Time Magazine
reported on a study out of China and the University of Toronto that attempted to quantify babies' cuteness. Apparently, kids stop being cute -- or at least "drop whatever you're doing to coo at them" cute -- at around four and a half years old.
With puberty impending, it's all pretty much downhill from there.
Perhaps having heard about the study, and not wanting to miss the window, a new mother in China has put her two-month-old child up for adoption on a second-hand goods website. To be clear, the second-hand goods carried on the site are not usually babies.
The Atlantic reports
that the baby is listed as a "99 percent new, 100 percent free item." There's also a pretty cute picture but so far, no takers.
Although it sounds like a joke -- especially the 99 percent new part -- at this point the evidence suggests that this mother is real. According to the story, the woman, who is from Guangzhou, is in the middle of a divorce and does not feel capable of raising a child on her own. Lawyers contacted by Sina News have pointed out that she cannot give the baby away without its father's permission.