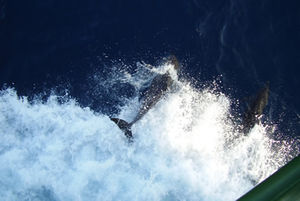 Eight months after BP PLC capped the well that spewed 200 million gallons of
oil into the Gulf of Mexico
, dolphins are washing ashore in east Louisiana with oil from that spill on their bodies - most recently two weeks ago, a federal stranding coordinator said Thursday.
Blair Mase, of the National Oceanic and Atmospheric Administration's
Fisheries Service
, said oil may not have had anything to do with the animals' deaths. The causes have not been determined, she said.
"We're still seeing dolphins wash ashore with evidence of oil," she said. She said 15 dolphins with some oil on them have been found since last April, when the
Deepwater Horizon
well blew wild, and eight of them bore oil from that well. One of those eight was found two weeks ago, she said in a teleconference Thursday.